It was another wild session, but stocks started higher and finished lower this time. The was trading more than 2% higher to finish down on the day by 15 bps. Wednesday was the big , and the bulls didn't get their less hawkish surprise; they got the Powell which we saw two weeks ago, talking about balance sheet runoffs and an economy that can handle multiple rate hikes.
When asked about the market , he shrugged it off and said he was focused on the real economy and achieving their mandates and not using only one market to assess financial conditions. You can watch it right around the 27:30 mark. Given its size and duration, he also talked about the balance sheet running off sooner and faster than the 2017/18 scenario.
Additionally, he noted that the Fed was likely to raise rates soon, which is the code word for at the next meeting. At least that was what it was in the previous iteration. So basically, the market didn't get a less hawkish Fed; it potentially got an even more hawkish Fed.
Yesterday, there were many more details than in the confirmation hearings two weeks. That, of course, sent the yield higher by 13 bps to 1.15% and the up to 1.87%. It helped to flatten the to around 72 basis points.
Additionally, the Fed Funds futures for December were trading at 1.17%, indicating that the 2-year yield needed to rise much higher, as I have been saying probably to 1.4%.
5-Yr TIP
But most importantly of all, the 5-yr TIP "real" yield rose to -1.04%, from around -1.20 pre-FOMC, a massive Intraday move. Once the real yield started to move, it was over for the stock market.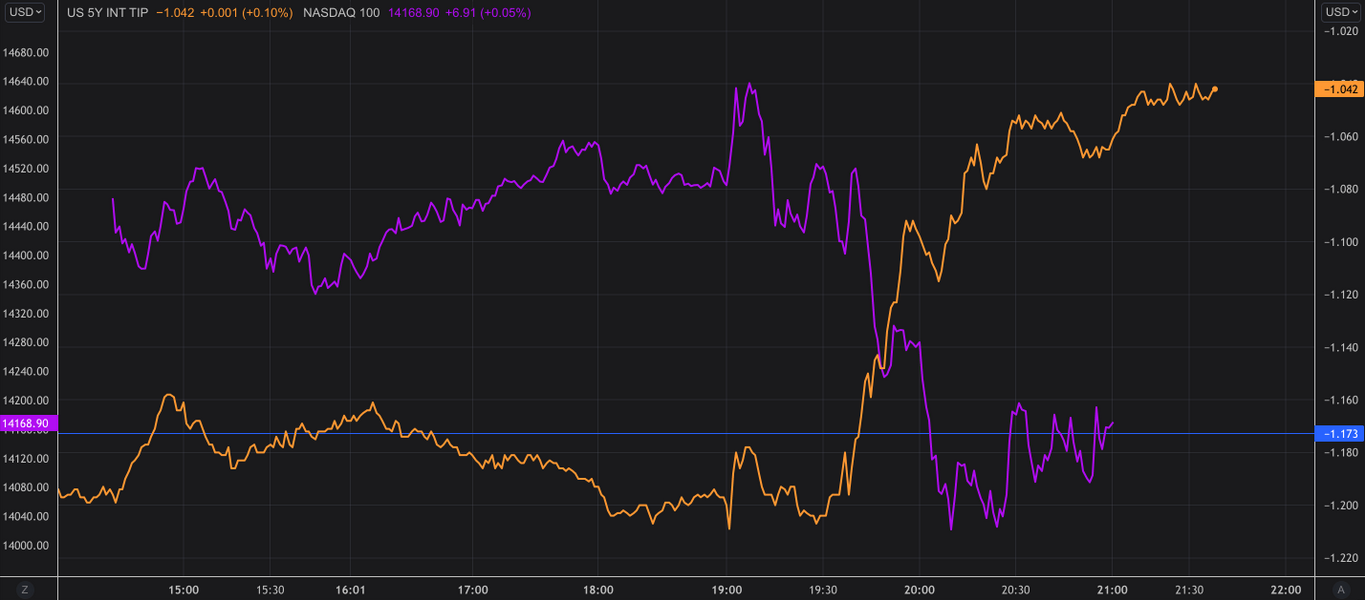 The 5-year TIP is now trading above its Jan. 20 high of -1.06%, and I don't see how the can push to new highs, or even within 5% of those highs, with real yields rising and earnings estimates falling.
Worse is that the 5-year TIP was likely heading to -0.50 bps, so it had much further to climb still. The chart below shows an inverted (upside-down) NASDAQ.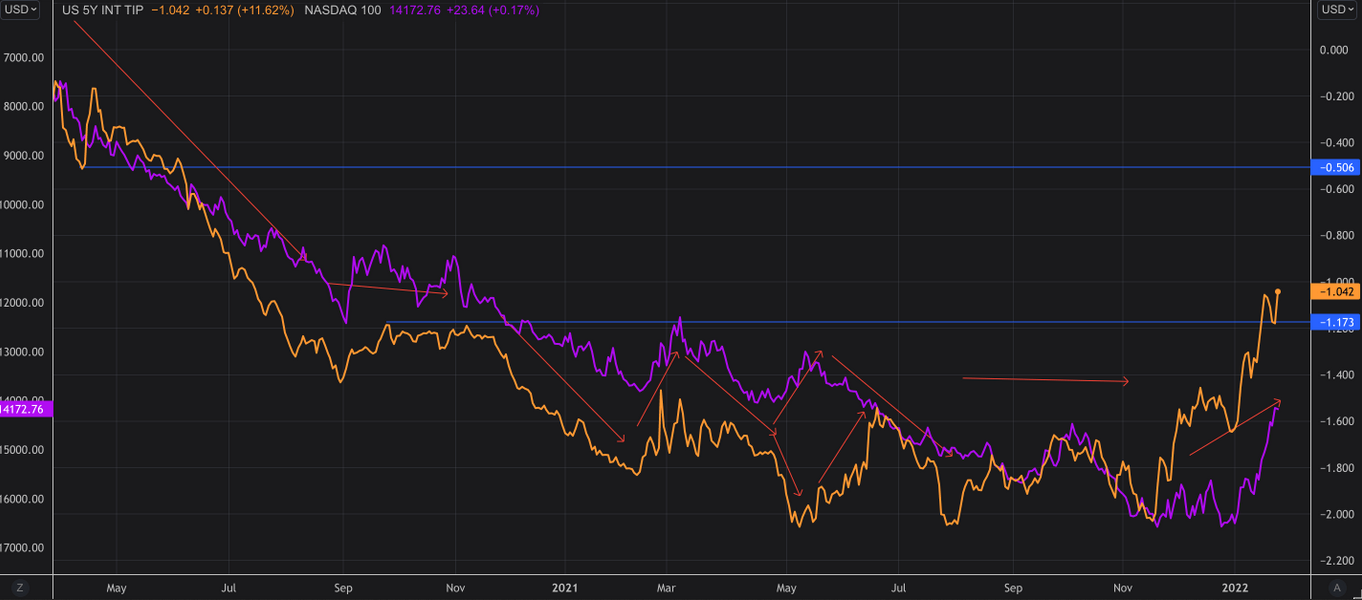 NASDAQ
The Invesco QQQ Trust (NASDAQ:)s melted all afternoon, dropping to and holding support around $342. Once that breaks, I think we should quickly take out the lows and start heading towards $330.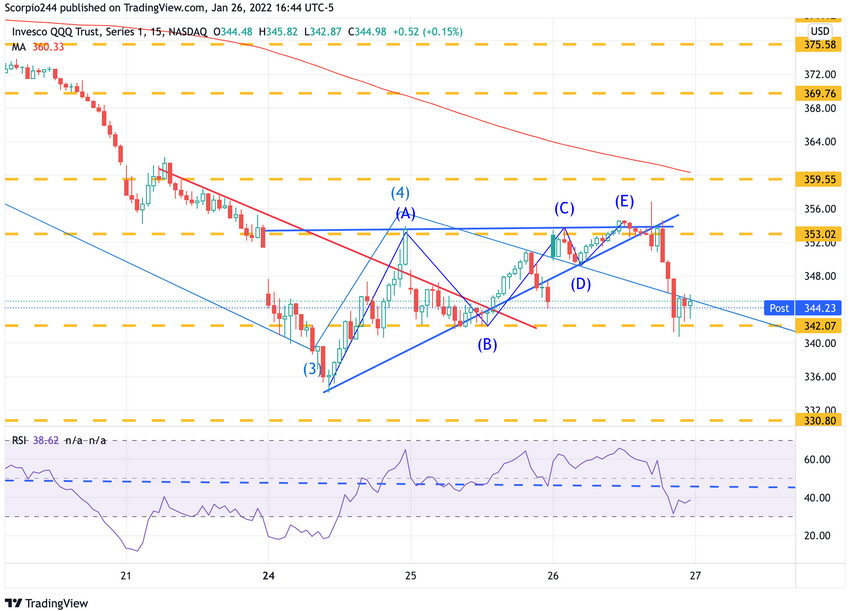 S&P 500
What was bad for the S&P 500 was that we spent nearly all day trying to clear the 200-day moving average and failed miserably, not a good sign.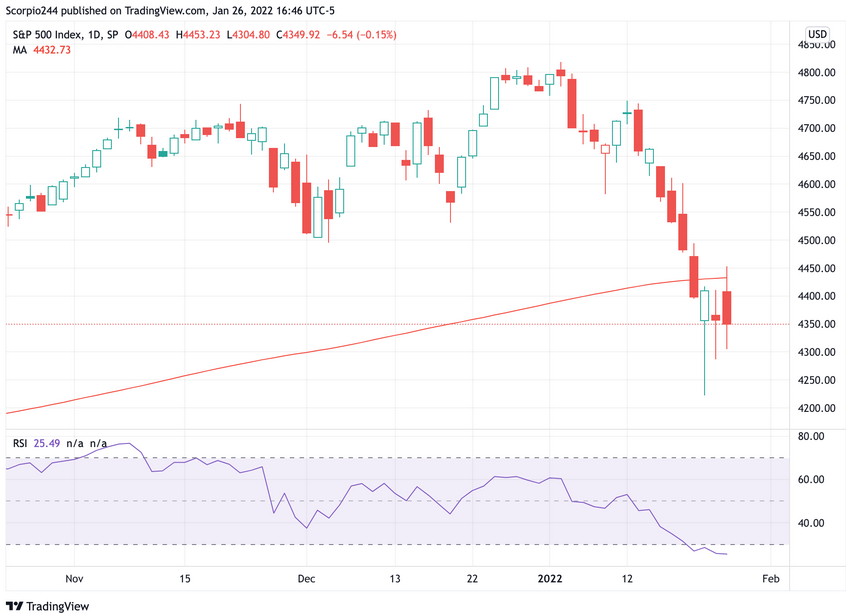 Due to the move up yesterday morning, I changed my pennant pattern into a bear flag. If I were to project that bear flag out, it could lead to a drop to 4,050, a decline of another 8%.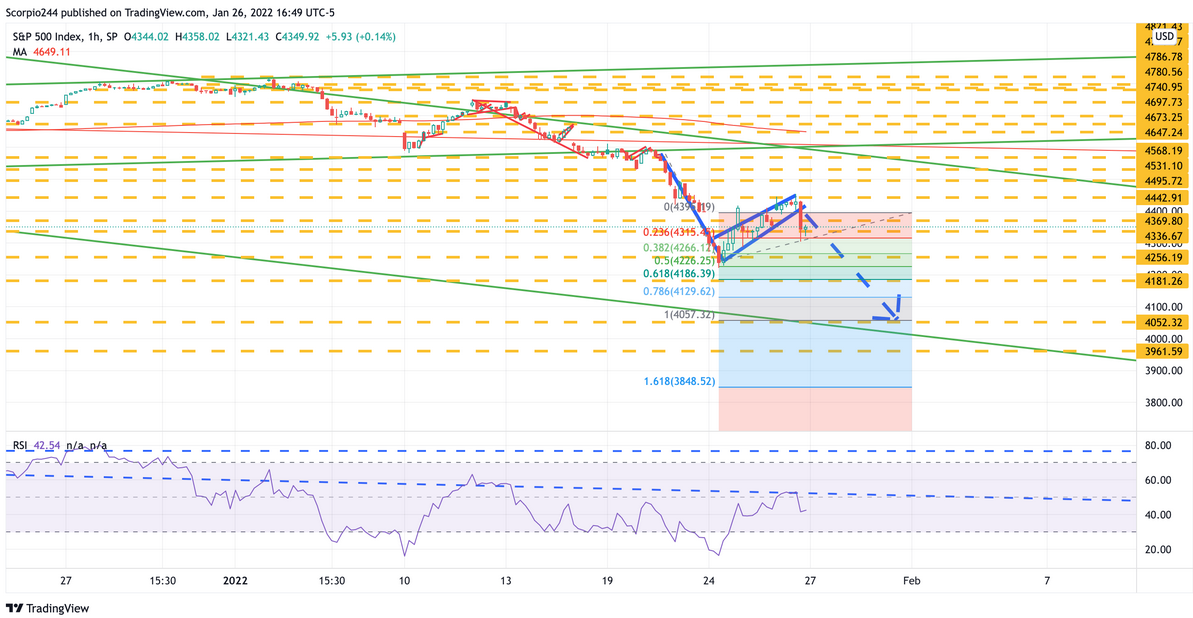 Microsoft
The conference call saved Microsoft (NASDAQ:) yesterday, which provided . The stock managed to get back to resistance at $305 and couldn't get further. I think the solid results and guidance will help support Microsoft, meaning that it may fall less in a big move lower in the broader indexes. But support at $282 would be critical to maintain.